The National Championship is here, who will be crowned the champ?
#6 Iowa 70, #4 Oregon 64
The Iowa Hawkeyes won the NCAAGameSim.com Tournament Championship with a 70-64 win over Oregon.
Iowa jumped out to a fast start as Jordan Bohannon scored the first 5 points of the game. Oregon fought back as a layup by Francis Okoro gave the Ducks an early 8-7 lead. The lead went back and forth for the next few minutes before Oregon went on a 7-2 run, keyed by an Anthony Mathis 3 pointer, to take a 27-22 lead. Oregon held the lead there as the Ducks went into half holding a 34-30 lead.
Iowa started the second half as it started the first 20 minutes, by scoring a quick 5 points to take a 35-34 lead. After several lead exchanges over the next 5 minutes, Oregon started to take control. The Ducks used a 12-2 run to take a 53-44 lead. The run started with another Mathis 3 pointer and a couple Chris Duarte buckets kept the run going.
With 8 minutes remaining, a Payton Pritchard free throw gave Oregon a 56-49 lead, but that is where things started to turn. It started with a Luka Garza follow-up dunk and then Iowa started to play with an efficiency that brought them this deep into the tournament. A Joe Wieskamp 3 brought Iowa within one point at 59-58, and that was just the beginning. Iowa proceeded on a 17-0 run and kept Oregon scoreless for nearly 5 minutes and iced the game with a couple of throwaway baskets going to Oregon late. Wieskamp, who finished with a game high 25 points, proved to be clutch over the final stretch scoring 7 points in the final 5 minutes. Luka Garza dominated the boards throughout, grabbing 13 rebounds to go with his 16 points.
Luka Garza was named the Most Outstanding player of the tournament. Garza, Wieskamp, Pritchard, Duarte, and Jared Butler of Baylor were named to the All Tournament Team.
Congrats to the Iowa Hawkeyes, your NCAAGameSim.com National Champions.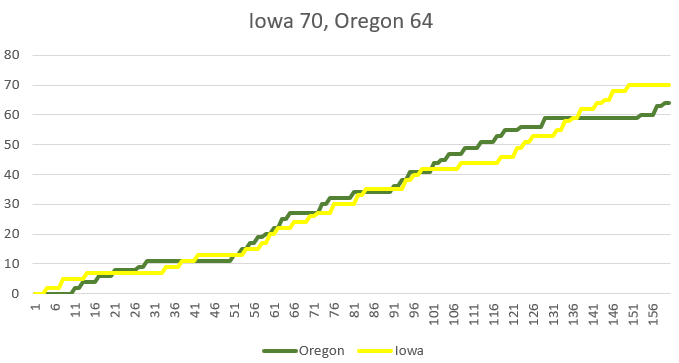 Iowa

Oregon
NCAAGameSim.com Tournament Updates